ABOUT UBUD STUDIO – DANCE SCHOOL BALI
Salsa – Bachata – Kizomba – Balinese Dance
---

Ubud Studio is a place to learn Salsa, Bachata, Kizomba and various other dances in a fun environment. Our brand new dance studio in Ubud, Bali is located at the top floor of Massa's gym. This open and airy area offers an amazing view on the rooftops of Ubud. A place to learn with some of the best teachers in Bali, a place to dance with a 100 square meter wooden dance floor, a place to chill out facing the view or watching the classes, but definitely a place to have fun!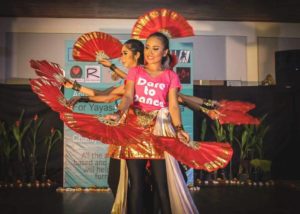 Ubud Studio offers regular classes for Salsa, Bachata, Kizomba, Balinese Dance and our now very famous Sunday Community Class (donation-based), as well as intensive 10h courses and regular workshops with international teachers.
Open for all ages and all levels … Please take a look and don't be shy to come by and say hello!
To stay up-to-date, please follow us on Facebook and Instagram
Would you like a FREE Ubud Studio T-Shirt?
Share your experience with us and get your FREE Ubud Studio T-shirt 'Dare to Dance'* by completing only 2 easy steps:
You can find us on the top floor of Massa's Gym Center
Jl. Made Lebah 2, Br. Kalah, Peliatan, Ubud, Bali, Indonesia
*the FREE T-shirt has to be picked-up at Ubud Studio by showing your reviews and Facebook-like.